Seminar "Alcohol consumption in Russia, 1965-2015"
The third seminar 'Modern demography' of the International laboratory for population and health took place on the 25th of May. Alexander V. Nemtsov, MD, the head of the department of Moscow research institute of psychiatry of the Ministry of health of the Russian Federation, presented a paper on alcohol consumption in Russia in 1965-2015.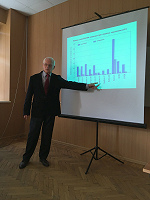 A.V. Nemtsov is among those distinct Russian scientists studying alcohol consumption phenomenon and its impacts on the health status and mortality of the population in Russia. A.V. Nemtsov is an internationally recognized expert in this field. During the anti-alcohol campaign, he developed a new methodology allowing for the assesment of the actual level of alcohol consumption. He is the author of five monographs, including A.V. Nemtsov 'Contemporary history of alcohol in Russia, 2011'. Södertörns högskola, Stockholm, Sweden, and of over two hundred papers in leading Russian and international journals.
A.V. Nemtsov addressed the following topics:
● Alcohol consumption seen as the 'social infection'
● What drives the levels of alcohol consumption?
● Real figures of consumption vs. official and figures based on data from population surveys
● Political component of alcohol consumption
● Alcohol consumption in Russia compared to that of the globe
●The first and the second anti-alcohol campaigns in Russia
● Alcohol consumption and legislation in Russia
● Consequences of the alcohol consumption

Presentation by A.V. Nemtsov